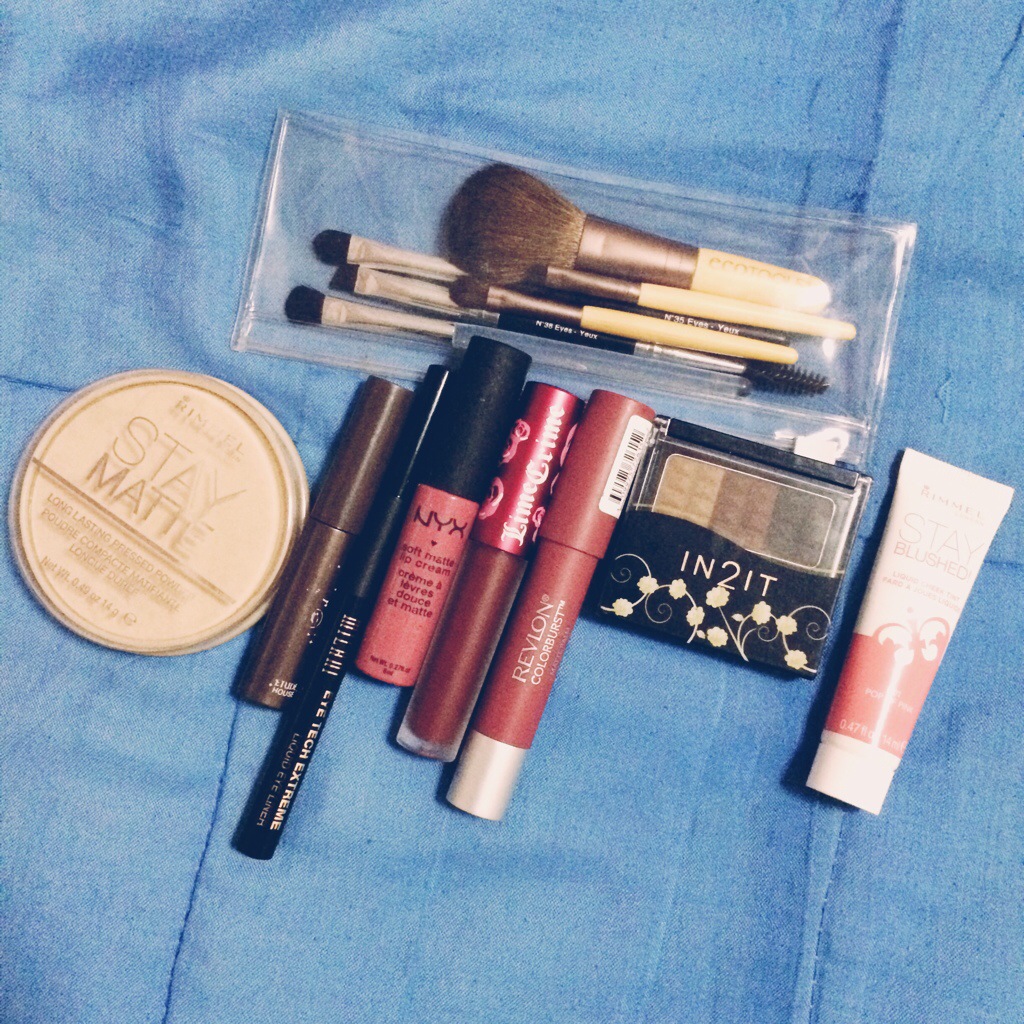 Decided to take a break from the blog challenge to fit in a beauty post filled with very affordable products! These are some of the new stuff I've acquired and I guess a mini review is due based on my use so far.
Rimmel Stay Matte Long Lasting Pressed Powder in 004 Sandstorm – Continuing my loyalty to the continuously awesome Rimmel, I decided to get this since I'm still on the prowl for my MAC Select Sheer Pressed replacement and for a pressed powder, this is very affordable costing less than P500, it's crazy. I'm not sure about the "Long Lasting" part of the name, because although it gives a really good matte look.. I feel like I need to constantly re-apply it. I'm still using my Balm Shelter tinted moisturizer underneath it. I need to give it a good few months to really determine how I really feel about it.
Etude House Color My Brows in #1 Rich Brown – This is the latest purchase in the bunch but its labels are almost completely chipped off. Not a fan of that. The product on the other hand, isn't bad, but not great either. I can do without it plus it's not that good for setting my hairs in place for some reason. I will, though, vouch for its color payoff because when used properly it really gives a nice result. I guess this kind of brow product isn't for me and it's not something I really need because I'm too reliant on my other eyebrow formulas (powder, gel, retractable gel) to get the job done. My sister is the one using this the most so I might end up giving it to her.
Milani Eye Tech Extreme Liquid Eyeliner – Not waterproof and smudges easily without primer, especially since I have really oily lids. That's my only qualm. Other than that, the felt is amaaaaaaaaaazingly small, long and helps for precise and easy application (I LOVE IT) plus room for error, which is very important to me when it comes to eye products, especially eye liner.
NYX Soft Matte Lip Cream in San Paulo – I have a few of these already but I haven't really talked about it here before. NYX's matte lip creams are the bomb diggity. They are cheap, easy to apply, vast color selection, smell great (was a bit bothered with the vanilla scent in the beginning but got used to it) and hold really well on your lips. I love them! This is my favorite dark one although it has to be worn with neutral eyeshadow otherwise it just makes your face pop out. Milan and Istanbul from this line are actually part of my usual every day look.
Lime Crime Velvetine in Wicked – I never planned to buy this because I was informed about Lime Crime's weird history and didn't want to support a brand with a shady reputation but this was love at first application in terms of color. I did not realize I could rock this color and rock it well. Friends and family were cheering on me when I wore this, it was getting out of hand, so I succumbed and bought it. In terms of formula, it's sort of like the NYX Soft Matte Lip Creams, but on major C R A C K. Literally. Not for the faint of heart (or lips, for that matter). It is probably the most dry and mattifying product I've ever applied on to my lips EVER. It gets so dry that it holds the cracks of your lips and if it were a fist it would have crushed your lips from holding it too much. I think I need to apply some sort of base product but I'm still finding out what exactly. I tried a similar color lip pencil but it still sort of produced the same result. Don't even get me started on staying power. It puts a shame to that term, I tell ya.
Revlon Colorburst Matte Balm in 225 Sultry – Do you notice a pattern here? I am warming up to darker colors. I used to be all about the nudes and the pinks and the basic reds. Dark mattes really suit me for some reason. I like this product a lot for its light formula, mint feel and no-frills application. The non-matte ones never suited me for some reason so the ones I got before, I gave to my mom. I finally found the color for me. It's good for every day, also good for a night out. I'm a fan of this color.
In2it Waterproof Eyebrow Colour in ER 01 Eyebrowns – I am a little late to the party with this one. People have been raving to me about this product (even local beauty bloggers) and probably about 70% of my girlfriends use it so I finally gave in and got myself one. So cheap too, at less than P270 since I got it on sale. I like how they were able to squeeze in 3 colors into one compact. Application is easy and pigmentation is pretty good but still has a small amount of fallout in my opinion and needs a couple of swipes to get true color on the brush, which are my only problems with this product. I've been using it lately while waiting for my HG Shiseido (the mother of all brow powders IMO) to arrive soon. I also use it to set my bdb brow pencil or MAC brow gelcreme. This is a potential HG though, I won't deny it. Especially when you just need to fill in sparse areas in your brows and don't need that much of a high maintenance product (like me).
EcoTools Mini Essentials Set – This was way too cute to pass on! I keep them all in my travel brush pouch for easy use. I use the finish brush to apply finishing powder, the shade brush to help with either blending the crease or packing in color on the lid and the define brush is really good for precision eyeliner or even tight-lining the upper eyelid. My first ET brush set and I'm quite happy!
Somehow I included my Rimmel Stay Blushed! even though I've written about it before. I guess I love it too much? I've already talked about the other brushes outside of EcoTools as well so I'll leave it at that.
Phew! I realized how mini reviews get so tiring to do, but SO much fun at the same time.