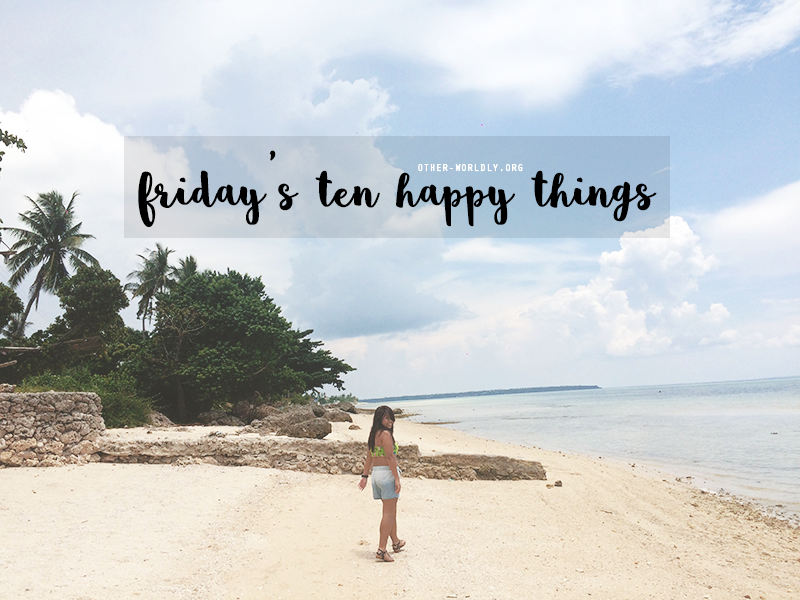 When Helga tweeted a reminder yesterday to do this week's happy things, I realized it's been over a month since my last one! I just got out of the hospital AGAIN after a 2-day stint (3rd time this year) so this week (actually the whole 2 months of June and July) has been a challenging one. Here I am still powering through! Let's get it on.
Post tonsillectomy recovery. It was a rough couple of weeks but this week was the opening to my full recovery. Goodbye, pain!
FOOD. I am finally back to eating normally. You don't know how happy this makes me.
A new company phone. After months of struggling with Java enabled WhatsApp on my old Nokia, my boss in Singapore bought me an Android! Ah. The start of better, productive things.
A weekend at the beach. It wasn't just a weekend at the beach, or my parents' hometown, or a place that I always go back to.. it was a chance to spend time and bond with my parents for a relaxing 2 days. My dad left for Indonesia again 2 days ago so it was a great opportunity for me to spend that weekend with him because while he was here, much of my time was spent in bed recovering.
August. I'd like to think that a new month means a renewal of sorts and a cleanse from all the bad juju of the previous month.
A new friend. I've been a social recluse lately but I gained a new friend who I am learning a lot from.
Foodpanda. Your cravings right at your doorstep. I ordered food while I was in the hospital and they delivered it right to my suite! One of my best friends just became FP's Operations Manager in Cebu so that comes with supporting him too. The best part is, they take online payment (debit/credit card, PayPal) so you don't have to scramble for money to pay the delivery guy.
Paying bills on time. I admit I've been losing track of time lately and have just been paying my bills randomly without following a set schedule. I'm now on my way to tracking my finances right so I don't lose sight of which bill my money went to.
Core Girls Group. Last night was a noisy WhatsApp group night and I almost couldn't keep up! I'm glad I have my girlfriends even though we're all spread out across different cities. Cebu. Manila. Jakarta. (sometimes) Singapore. It's crazy but after almost 2 decades we still have each other.
Life's challenges. As much as I wanted to NOT put this on the list, I realized I have to. These past 2 months have been a major test in my life. Challenge after challenge after challenge. It hasn't been easy and continues to be a test to myself but knowing I can still wake up the next day and attempt to turn things around should be motivation enough to keep powering through with a smile. This is just temporary.