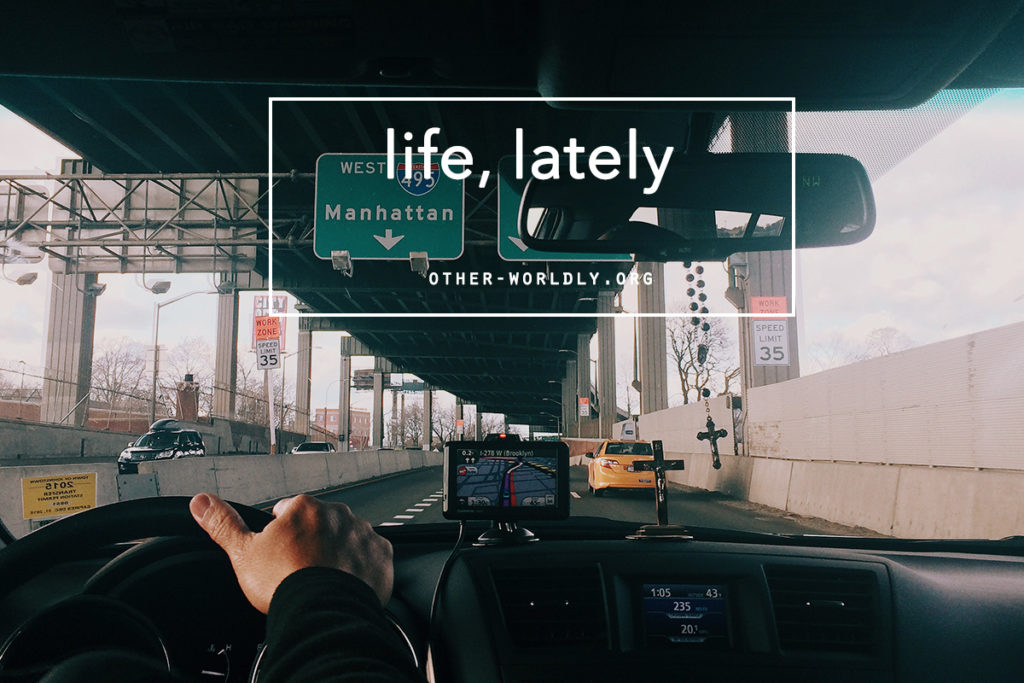 WARNING: This is going to be a long one because OVERCOMPENSATING! Heee.
I know I haven't been writing much in this little blog of mine. Even my blog challenge for this year is going down the drain, siiiiigh. It's something I was trying really hard to complete and not cheat (e.g. scheduling posts) but I realized it could have been more helpful if I did. Anyway.. to start off this life lately entry:
Hello from New York! I'm here for the holidays and all throughout the first half of January so that's about a month. Still beating jetlag after 5 days and I hope this normalizes soon. It's funny coz I'm not usually a fan of cold weather and winter in general, but I got used to it way sooner than the whole sleep/jetlag thing. Granted, I was still working during the first Monday after I got here and that helped with actually making me do something as opposed to just sitting waiting for the right time to sleep. Jetlag is a tricky thing, and it is one big mindfuck. The whole falling asleep anywhere I sit during the day is also annoying, but really funny, in hindsight.
My first foray into cold weather for 2015 was when I was in Hong Kong last month with former work friends. Out of all the trips I took this year, that was probably the most planned one. I finally got to visit Disneyland again after 9 years. Also I went there wearing shorts and went home freezing my ass off because little did we know, that it would be the day cold weather officially started in Hong Kong! I also got to meet John Lloyd Cruz in Disneyland during the supposedly opening day of A Second Chance (WHEW) and needless to say I was starstruck. At a local celebrity while overseas. Huh. Funny things happen.
I also finally got to go to Macau! I've been to HK more than 5 times but have never crossed over to that infamous city. It was interesting because we had less than a day to do all the touristy stuff so we were on a time crunch. I'd like to visit Macau again when I'm not strapped for time and just sit inside the casino playing digital slot machines. I lost $30 that day. One for experience, right? Someday I will take that back.
Here are some tidbits that I'll try to fit in bullet points:
On Christmas day we head to Manhattan/New York City then to other neighboring states in the East Coast. Excited!
My personal life has been all sorts of a little crazy the past few weeks. I'd like to get into detail but then again I can't.
During the middle of the year I was on the hunt for a great planner to end the year / start 2016. Now I have so many I can't even choose! Also, I left my work and personal planner back in Cebu so naturally I had to buy a new yesterday at TJ Maxx.
American supermarkets are the bomb diggity.
I'm going to miss first world internet when I leave this place.
I have a love/hate relationship with winter. Mostly hate, but if I don't come to love it I will always be in the losing end.
That's about it for now! I post photos on my Instagram account. I don't want to promise to do a year ender post like last year but I will try my best to do another one before the year ends–for my sanity. Merry Christmas and hope you all love a lovely holiday season!