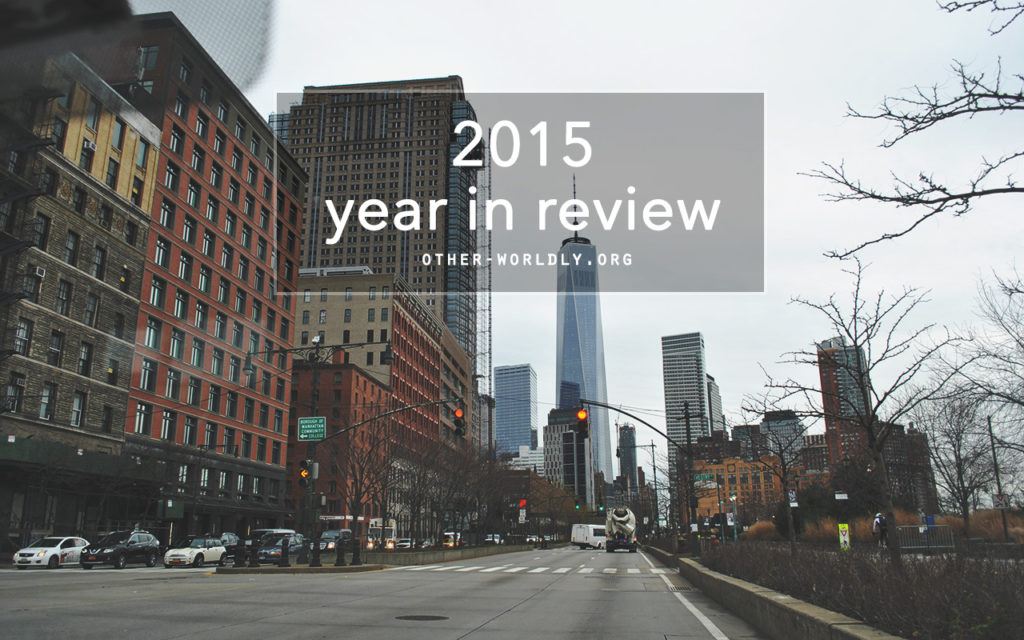 Hello there! Happy Valentines Day and welcome to my very first entry of the year. Before I go through what's been happening, I'd like to do another set of Year In Review entries again, like what I did last year (here). I remember having a really good introspective moment while doing that entry and while I feel like so much happened last year, I can't believe it's been more than one whole year since I did that. Ah, time.
1. What one event, big or small, are you going to tell your grandchildren about?
If you feel like the decision is right for yourself no matter how scary, make it.
2. If you had to describe your 2015 in 3 words, what would they be?
Full. Of. Surprises.
3. What new things did you discover about yourself?
I can actually fall in love.
4. What single achievement are you most proud of?
Making decisions for myself despite what people around me think.
5. What was the best news you received?
Oh, I had my fair share of good news (and bad) last year. I guess one that would have to take the cake is getting to travel to New York.
6. What was your favourite place that you visited in 2015?
Washington, DC! If there is such thing as love at first sight, then my sight for DC was definitely it. How lovely would it be to live there and actually afford to.
7. Which of your personal qualities turned out to be the most helpful this year?
My threshold for physical pain. I had to undergo surgery for my tonsils (finally!) and looks like you won't be seeing anymore tonsil pain entries in the blog anymore because it is gone. I was also hospitalized for a total of 4 times in 2015. What a crazy rollercoaster.
8. Who was your number one go-to person that you could always rely on?
This is tough. I would have to say my best friends Noemi and Bianca. My sister, Jana will also never leave this list, just like last year.
9. Which new skills did you learn?
The skill of opening up myself to another person wholeheartedly. Boy oh boy did I not see that coming.
10. What, or who, are you most thankful for?
I have to admit I was a bit of a handful last year. Gosh, I am so thankful for many people. The friends around me who never failed to comfort me and made me feel loved, for my parents and extended family who are so blessed and in turn share their blessings, work friends who make me realize I can have a family while doing my job, to my ENT surgeon for a successful tonsillectomy and to all the hospital staff who took care of me during all my stays!
11. If someone wrote a book about your life in 2015, what kind of genre would it be? A comedy, love story, drama, film noir or something else?
It would be a satiric indie film like Frances Ha, or something.
12. What was the most important lesson you learnt in 2015?
Falling in love is a beautiful, crazy thing.
13. Which mental block(s) did you overcome?
Late last year I officially transitioned from working in a corporate setting to working remote, which required me to spend most of my time at home if I'm not traveling. I'd have to say I overcame my personal stigma of laziness. I learned to really properly divide my time.
14. What 5 people did you most enjoy spending time with?
My best friend Noemi who was with me in Cebu for almost 2 months, RR, my closest friends and my family.
15. What was your biggest break-through moment career-wise?
Leaving the job I absolutely loved but felt no growth anymore. It was a very bittersweet and difficult decision but it had to be done.
16. How did your relationship to your family evolve?
I have to say I am extremely blessed to always have great relationship with my family. That's one thing that I can always count on, no matter how shitty everything else in my life becomes.
17. What book or movie affected your life in a profound way?
Book, I would say 40 Days of Dating by Jessica Walsh and Timothy Goodman. I had read the blog in 2014 but I finally bought the hard copy because I was such a fan. I guess I could also call it a lucky charm for many things that happened in my life last year.
18. What was your favourite compliment that you received this year?
Strong. If only they knew. 🙂
19. What little things did you most enjoy during your day-to-day life?
Last year was probably the year where I had a lot of routine changes in my life, basically the routine of having no routine, and I really enjoyed that for a bit even though it can get a bit draining at times.
20. What cool things did you create this year?
I created a monster within myself that I never knew existed, and that itself is pretty cool. Hah!