Time for an updated makeup bag post! I only started to downsize my makeup bag recently because a) I started losing stuff (fare thee well my Too Faced La Creme, MAC Del Rio, and Kat Von D lippies), b) I want to learn to only bring the things I really use outside the house c) I don't even wear THAT much makeup except for the essentials. I feel pretty proud this year because I've been amassing less makeup and focusing more on quality than quantity. My "Project Pan" is working pretty well too!
Without further ado, here are the "essentials" I carry with me most of the time. Some of them look so messy because they're so overused. At least my bag doesn't have to be so heavy anymore!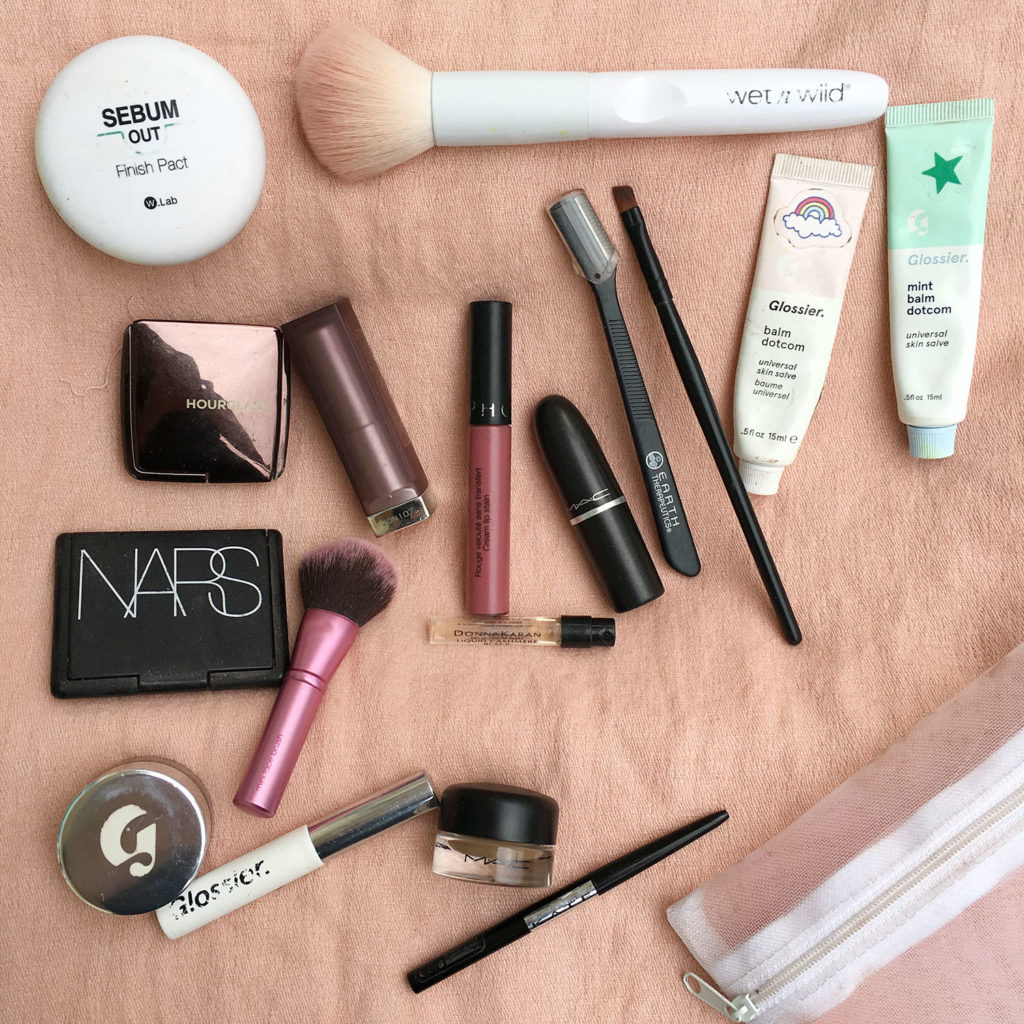 FACE
1. W.Lab Sebum Out Finish Pact (It's 50% off on Althea!!!)
I like this product because it serves its purpose. It's a really lightweight finishing powder that minimizes oil. The only con is that it has a really strong perfume-y smell, but I surprisingly like it.
2. Hourglass Ambient Lighting Powder in Dim Light (Travel Size)
Need I say more? This is a godsend. It's kind of like a magic powder of some sort, I don't know how to explain it.
3. Glossier Stretch Concealer in Dark 30
I love this product so much. It's like a tinted cream that doesn't completely mask your imperfections, but just blurs them out a bit, still giving you that totally natural look.
4. NARS Blush in Orgasm
This is 1 of 2 of my holy grail blushes. I actually bought a new one because I thought I had lost this, but it was just in between bags. If you open this it's hit about 80% pan and will probably be finished by end of year.
5. Wet n Wild Powder Brush
Sometimes this doesn't fit inside the makeup bag but I still carry it anyway. I really love how densely soft this is and perfect for face powder. I own about 5 or 6 from these set of brushes and I can say they are such great quality that I can't understand how they are each less than $4. What kind of sorcery is that? You can buy the whole set and still spend less than $30 for ALL of them. I have not read a single bad review about these yet.
6. Real Techniques mini face brush from the Mini Brush Trio
I love mini brushes! This one is for my blush.
EYES
YOU KNOW I'M ALL ABOUT THE BROWS, PEOPLE!
1. Glossier Boy Brow in Brown
Truthfully it took me a while to love this. It's definitely better with full brows and it does a really good job of keeping your brows in place without making them hardening and look like you bathed them in hairspray. I just bought my 2nd tube because this one is running out!
2. MAC Fluidline Brow Gelcreme in True Brunette
I've gone through 2 pots of this and will forever remain my holy grail brow product. It doesn't budge with my oily face and just. stays. put.
3. KATE Eyebrow Pencil in BR-3 (and BR-2)
This is the cheapest alternative I can find that is good quality and almost compares to the Anastasia Brow Wiz. It's great for really precise brow lining and filling and doesn't cost so much. I bought this in Watson's Singapore for about $12 and I was so happy to see it in SM just last week! It was about 560php.
4. BYS Angled Liner Brush
I feel like this brow brush works best with my MAC Fluidline and I have about 5 of these lying around at home. I can't seem to bring myself to invest in expensive brow brushes because I'm always misplacing them!
LIPS
1. Glossier Balm Dotcom (Universal Skin Salve + Mint Balm Dotcom)
I love this product. This was my saviour during the rough New York winter early this year. If I write about it more I'll end up doing an essay. I have the mint and cherry balm dotcom and the mint is the best thing to ever happen to me and such a perfect companion for Philippine weather.
2. MAC Satin Lipstick in Retro
I love this one for everyday wear.
3. Sephora Collection Cream Lip Stain in Marvelous Mauve
This is the perfect nude matte pink for my skin color. Out of all the matte liquid lipsticks I've tried, this formula may also be my favorite.
4. Maybelline Color Sensational Creamy Matte Lip Color in Nude Nuance
Was never a fan of Maybelline lipstick formulas until this collection. I blame Maybelline Philippines for their crazy Facebook marketing that prompted me to buy this. I'm glad I did, it's the perfect brown nude for everyday wear and the formula has definitely improved and doesn't feel like you have a weird layer on your lips. Even Temptalia gave this color an A-!
EXTRA
Makeup Bag – This is from Echostore and cost a little below 100php. I've gone through a million bags but I really like this one. It's still transparent and super lightweight at the same time.
Eyebrow Shaver – I got this from an Eyebrow Grooming Gift Set that I bought from Kohl's when I was in New York. I bring it just in case I have some stray brow hairs.
Donna Karan Liquid Cashmere – Sample fragrance from one of my Sephora purchases! I hate wearing (what more bringing) perfume but this one is really soft and doesn't give me a headache like most perfumes do. I collect these samples so I can insert them into my makeup pouch and not smell like sewage.