I have a feeling this "fangirling" posts are gonna go one after the other. This time, it's the super hot Josh Beech. I've always had this soft spot for male models with tattoos. Usually the male models I see are all skinny, clean and boring. Ash Stymest, Josh Beech and Cole Mohr were probably the innovators of tattoo clad/post-modern models. Needless to say, I am a big fan of all three.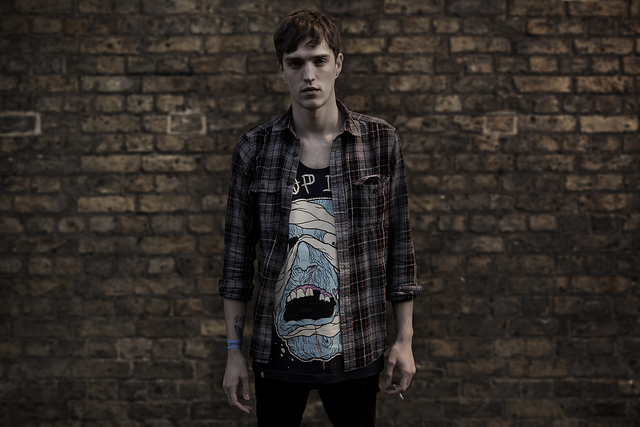 Photo by Luke Nugent
If it's not obvious yet, my favorite is Josh Beech and this usually means hours of looking him up online (and documenting it). Finding the spreads he's been part of, endorsements, runways he's walked for… which lead to discovering that not only he is a model, but also a music man. His preference of music usually leans to alternative and rock of the 90s, which kind of reflects his style of music too. This is a video I found about a year ago and I couldn't help but notice how his singing style sort of resembles Brandon Boyd of Incubus (which coincidentally, is my favorite band in the universe).
[youtube width="560″ height="340″]http://www.youtube.com/watch?v=22sWqhvwyCk[/youtube]
Snish was his first band, and being one of his early twitter followers I came to know that he had another band called Hildamay which boasted a deeper sound of rock, sort of underground. I guess he's the type who's constantly finding his own sound because it seems to me that Hildamay didn't work for the long run despite countless amounts of gigs they did in the UK.
[youtube width="560″ height="340″]http://www.youtube.com/watch?v=j8xkNQWYdWg[/youtube]
He's now doing his own thing, together with two Johns and called themselves (you guessed it right) Josh Beech & The Johns. I spent what was left of my iTunes Store credits ($4) on his EP Burnt Out which THANK GOODNESS costs $3.96! I've been confused on what to spend it on but I finally found my answer. I've been looping the tracks since I bought it a few hours ago and even though it's only 4 (technically 3 since one is an acoustic version).