I just got back from Korea around 2 weeks ago (separate post for that later) and I went crazy over their beauty products (as I expected). I switched to using Asian products around 2 years ago when I realized American beauty products didn't really sit well with my skin. That was when I discovered the wonders of what BB Cream did. I still use continue to use a couple of Western products like my MAC compact powder and some drugstore makeup brands like the Revlon blush that I use.
When I was in Korea, I found that Nature Republic was my favorite amidst all the others like Etude, Missha, Innisfree, Holika Holika, Saem, etc etc etc (there were SO MANY!) so that's where I bought the most things.
I don't use a lot of makeup daily but I can't go out of the house looking like I just fell out of the shower anymore so I use a couple of daily essentials. Here they are!
Shiseido Eyebrow and Eyeliner Compact – This is my number one. I can't leave the house without putting this on. I can go naked but I must have this (LOL). I have almost nonexistent eyebrows (thanks, genes) so I look like this everyday. Not as gorgeous as Jessica Alba, but you get the drift.
Nature Republic Super Origin Complete Control (CC) Cream SPF 30+ – The saleslady at Nature Republic recommended this to me. I like how it's lighter than a BB cream and a foundation. It's sort of like a moisturizer with color. Since I generally have oily skin I still have to put powder over it but it's been making my skin feel really good especially nowadays when it's hot.
Etude Drawing Eyebrow – I still don't know how to use this well because I'm so used to the brush but it's really good for summer when I go to the beach because eyebrow compact powder is NOT waterproof at all.
Revlon Matte Powder Blush in Blushing Berry – I bought my first one in Changi Airport a few years ago when my Clinique blush was running out and I was looking for a cheaper alternative. I really liked it that I don't think I'm gonna use another one until I find one that suits me well (and my pockets!).
MAC Select Sheer Pressed in NC20 – After much pursuit of the perfect press powder, I finally settled with this one 2 years ago. Have not changed my preference ever since.
Etude House Apricot Stick – I like using this because it's not too light for a lip balm and not to heavy for a lipstick.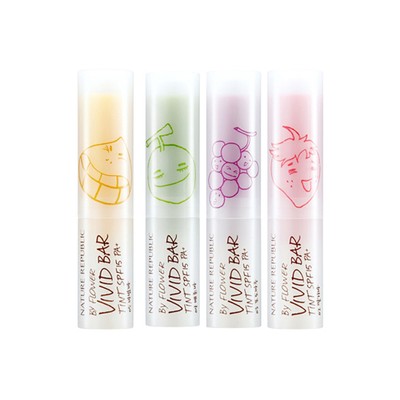 Nature Republic Vivid Bar SPF15+ – Bought this when my lips got really dry from the freezing cold winds of Seoul. I really like the color change because it's not too obvious like the Apricot stick that has one color too. Plus for this one the color on your lip, sometimes it varies (I think according to temperature or something). It's such a cool lip product.
The Body Shop's Madagascan Vanilla Flower Fragrance Mist – Bath and Body Works Lemon Vanilla is my utmost favorite Eu de Toilette, when someone gave it to me as a gift sometime last year. I loved it so much I used it in less than 2 months. I was gonna ask relatives/friends to buy me one from the States but it turns out they don't offer the line anymore and what's left are overpriced sellers on eBay! Then a few months ago someone gifted me with this Madagascan Vanilla Flower Mist and it smells really similar, so I'm really maximizing my time with this one.
Couple of things I love to use, although not necessarily daily:
MAC Lipstick Cremesheen Modesty -> Definitely one of my favorite lipsticks in the history of mankind. The perfect shade of pink/nude. I think I'll have one for the rest of my life.
Nature Republic 3 Dot Eyeliner -> Another one of my purchases when I went to Korea that I think is just godsend.
Kameria BB Creams -> I own two now: the Pink and the Blue one that I like to use on varying times depending on the weather/occasion.
I get quite a lot of makeup items as gifts that I don't use everyday but I do have a good enough stash to last me. I have a few lipstick choices as well from MAC, to Etude, Estee Lauder, Lancome, and even AVON (I have a favorite color I really like to use from the Anne Curtis line, lol) depending on when or how I wanna wear them. One thing I never know how to use properly is the eyeshadow, I feel like I need to get a proper tutorial on it or something because even YouTube can't help me. That's pretty much it!