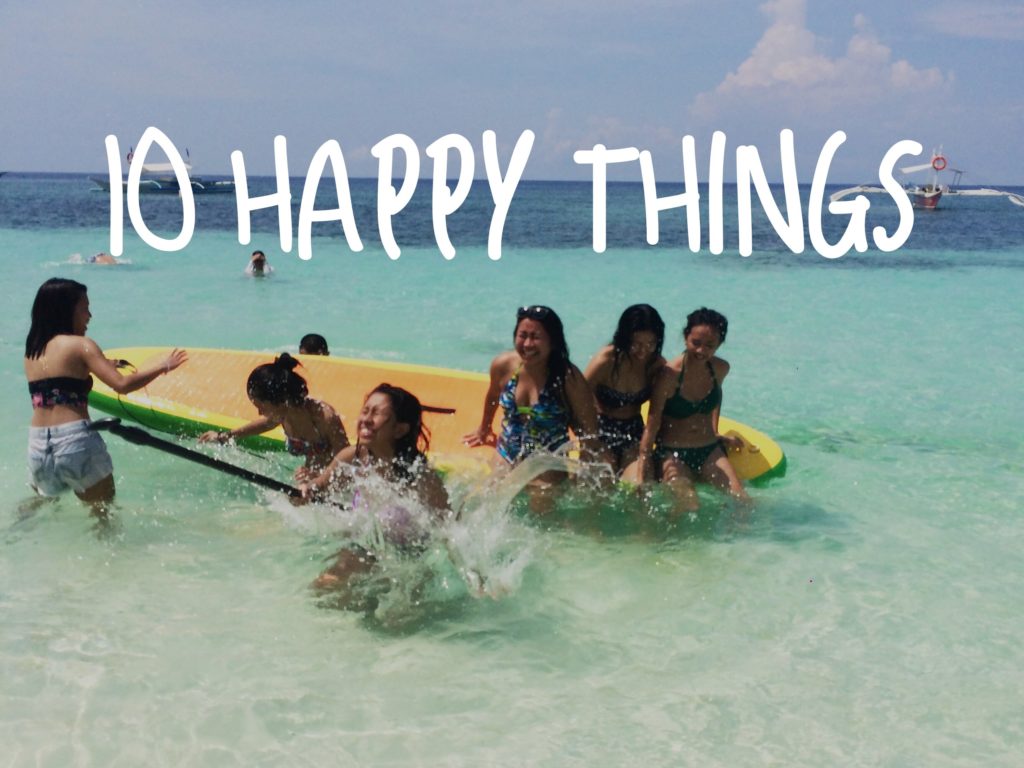 It's been a crazy, emotional two weeks (I actually believe in the mercury retrograde now) so I made sure to force myself to write this entry to remind myself that everything else isn't so bad. Still all about myself.
1. Last weekend's trip to Bohol. My mom turned a year older (fuck you, cancer!) and we decided to celebrate it by packing our bags, tag family along and go to Bohol. Man, I'm glad Bohol is only 2 hours away by fast craft. The resort we stayed in was so beautiful and amazing, and it's supposed to be the new Bohol luxury resort or something. I really really really needed that weekend for my sanity and some good QT with cousins, and of course, let my best friend see outside Cebu.
2. Drinks and laughs. Last Wednesday I had an unexpected drunken night with friends after such a long time. I laughed so much and I even sang with an acoustic band! My intoxication has sort of taken a backseat this year for reasons involving health and a certain someone, but it was good to let go that night.
3. My last week (in Cebu) with my best friend. This one is quite bittersweet. Noemi officially left for Jakarta today after staying in Cebu for a good 40 days. We were roommates for more than a month and did everything together. I'm gonna miss her so much, but she'll be here soon and I'll probably visit Jakarta this year as well. Our yearly visits are always consistent and that's always something to look forward to.
4. The willingness to improve. There are decisions I made the past week that will hopefully take a turn in self-improvement. Dealing with a lot of inner demons suck, and I'm finally deciding to do something about it.
5. Productive week at "work". I don't know if I can say the same with my office job but I (think) totally kicked ass at my remote job this week. On-time deliverables, learned new things, great client-vendor relationships and working with a great team.
6. Catching up with my love-hate best friend. Matt is someone I see every day (weekdays AND weekends), but we take that for granted and don't communicate like we're supposed to. The past year I've been busy with so many things, and he's probably 200x busier than I am with all his shenanigans. We sat down for a good 2 hours over dinner on Tuesday and I was met with a much-needed dose of reality that involved me having a good cry on his chest. We're not perfect friends, but we're always there for each other.
7. Once again finding out who my real friends are. I'm surrounded by a lot of people, but at this point it makes you realize who really counts. I am glad I have a great support group who will either support my stupid decisions (but be there for me when shit hits the fan) and those people who will give me a good knock on the head when they know I'm doing the wrong thing, in all good intentions.
8. Kremil-S. My hyperacidity has been acting up and this has been my little inexpensive saviour for such episodes!
9. Menstruaaaating. Ever since I started my medical therapy for PCOS my periods have been regular as fuck. YAY and fuck you, PCOS! This also seems to be a recurring theme in my 10 Happy Things.
10. Mom, Papi, Jana. I must have at least done something right in my life to deserve my parents and my sister. Sometimes a pain in the neck, but always my treasures.