Related Post: 2PM, Finally!
It's taking me a while to come up with a decent blog post about my experience during last Friday's 2PM concert, because I don't know where to start. My word vomits about my experiences during that night have all been spewed on both my twitter accounts and told to friends who have been asking me about my experience but there's just something about actually coming up with the right words to say in a blog post that's so hard. It's Tuesday as I currently write this but I have no idea when it will be published (FRIDAY!).. so I'm just forcing myself to just write so I don't have to torture myself on how to come up with the entry for this blog. I know a lot of my online friends aren't K-pop fans, and I didn't get into K-pop until late 2009, where I already established a place in the internet as a blogger (who had no knowledge about K-pop and was a rock chick at heart) in both tumblr and my various sites but it was also tumblr that introduced me to 2PM.. then gradually K-pop as a whole. That time I was also kind of unmotivated, I had just finished uni waiting to graduate and I couldn't have been more lost. K-pop made me temporarily forget about a whole lot of worries.. I can say it got me through pretty much a bunch of shit I wouldn't be as comfortable talking about by now.
Tickets
The promoters had announced the ticket prices by August or September so we had time to save up for whatever price they were going to throw at us. I was ready to buy the most expensive seats because the promoters promised us it would be numbered seats (to prevent any crazy stomping fainting fangirls happening) but I had another dilemma, I would also be paying for my sister because there's no way in hell my parents would be paying for her and it would be totally unfair to not bring her, she's a K-pop fan too because of me (although not as much as me, shocking.. she's the tween after all). The most expensive ticket was Diamond class at over $220 so it definitely got me thinking if I were to buy 2 that's gonna burn a crazy whole in my personal pocket but being the awesome sister that I am, of course I bought my sister one too. I didn't think anymore, if I did then it would have been more painful. Thank goodness the promoters gave us a timeframe to save (they also had a 50% payment promo) and thanks to my friend Janey and fellow 2PM fangirl who queued in line from 8am to get our tickets so we could get nice seats and sit together.
Concert Day
Friday was a whirlwind of emotions. I purposely skipped work that day so I could gather up all the energy that would be spent that night. I had bought a new camera for the concert (yes the P300) because SLRs or any form of professional AV recording equipment weren't allowed. I was actually quite surprised at myself for being pretty calm during the days and weeks leading up to the concert, I had been waiting for this day since the last time I saw them last March (for merely 20 minutes and 4 songs), not to mention I had to get back my concert streak from when I missed Incubus last July and that really broke my heart. That's why I didn't go to work, if I did it would have been the same as that Incubus incident.. I couldn't get out of the office in time. I still feel sad every time I think about that day, ugh!
Concert
[youtube="http://www.youtube.com/watch?v=346Xchgsiec"]
The start of the concert when they came out on stage and everyone freaked out (naturally) including me that I couldn't even hold my camera properly. I took better videos than better photos, mostly because they moved around on stage so much. Fangirling and spazzing to 6 dancing boys while focusing on taking good photos (plus trying to get rid of the heads in front of you) don't really mix well together. I was a butthurt for a bit though, the concert had strict rules on not being allowed to bring SLR cameras or any professional equipment but when I got there some fangirls got to sneak in theirs. Ohwells. I don't have the right lens anyway and it would've been a chore. I thought my Nikon P300 worked great enough that night.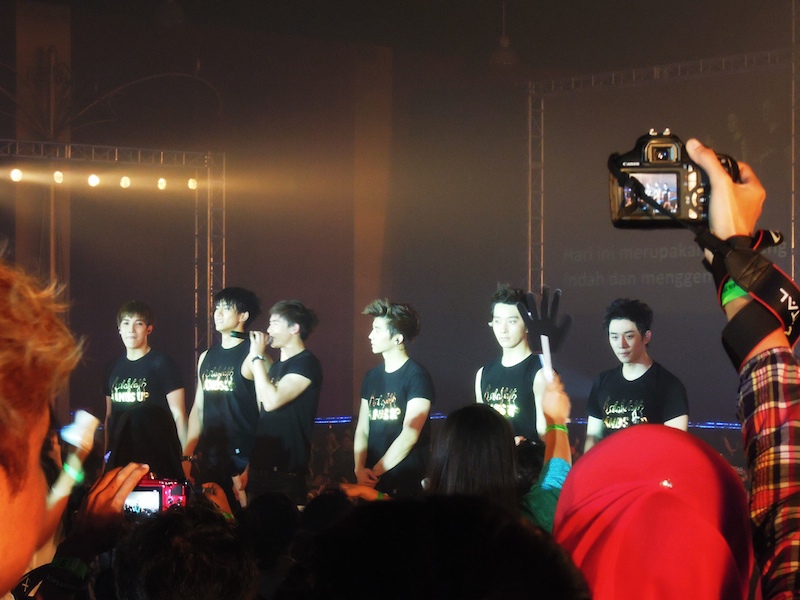 Yup, definitely butthurt at that girl who brought her SLR.
If I wasn't a 2PM fan I would be saying it was great, fun and a really enjoyable concert overall but I AM A FAN so it was amazing, even mindblowing. When they said it would be exactly the same as their concert in Seoul, they were NOT kidding. I felt like I should've paid more or something. The concert was about almost 2 and a half hours, laser lights, great production value, interactive boys, amazing stage. Pretty much everything you asked and wished for. The show was divided into two parts, the first part they sang songs from their latest album and the second part they sang all their hits and popular non-singles. There was an intermission in the middle where they showed a cute VTR supposedly narrated by Chansung's cat Jeonggam, and how supposedly he sees the boys. It was cute, but the Indonesian translation was a little bit off. Here's the Korean version with English subtitles, it's quite funny and cute.
[youtube="http://www.youtube.com/watch?v=NSlWdWZ6nl0″]
The concert had me dancing, singing along and literally on my seat for about 2. 5 hours. There was a part in the 2nd set of their show which really got to me. It was when they sang Heartbeat, which was really the first song I fully heard from them almost 2 years ago. I was enjoying the song while recording a video and suddenly tears just fell down my face. It was an overwhelming moment, it felt so weird and before I knew it I was bawling so hard I couldn't hold the camera properly and passed it on to my sister for her to continue to film it. I didn't even care anymore, I just let all the tears out and wiped them to my shirt and cried and cried like no other. Heartbeat got me through a tough time.. like I wrote earlier I got into 2PM while I was kind of a mess. I had just finished uni and while waiting to graduate I was in a point where I was completely lost in life, with no idea about what to do with it (still don't, 2 years later pfft), confused which direction I would be taking with pressure from my family & surroundings. 2PM became my refuge, they made me laugh, they entertained me to no end and made me stop thinking about the impending arrival of "the real world" even for just a short while. I guess that's how much the song Heartbeat meant so much to me, and it remains to actually be my favorite 2PM song of all time. I had so much tears, it's pretty funny now when I think about those 4 minutes of the night.
[youtube="http://www.youtube.com/watch?v=tKHX9C_5Xkk"]
If I had to have some criticism, it would be that it had a few annoying kinks. In 1 or 2 songs the mics weren't loud enough or one mic wouldn't be so clear and I think in one song many stage managers actually had to run to the stage while the boys were dancing and singing to replace their mics but you would expect that to happen because everything was so damn fast paced and jam packed! Like if you were tired of shouting and screaming you could imagine how tired the boys were, dancing and singing on stage for 3 to 4 songs straight without any breaks in full wardrobe, usually leather jackets and suits. Singing and dancing at the same time is hard freaking work, I've tried it. I've also tried dancing in shows and before it hits 2 minutes I'm already tired as fuck and out of breath. So I can only imagine the adrenaline x100000 that the boys have to go through and they are still able to sing live and dance in full energy. Fucking crazy. I was in awe all night. Not to mention seeing them all up close this time (because I was at the back during #bblive), it was surreal. Boys were like porcelain, thanks to makeup. They seem taller, leaner, stronger than all the photos I saw online and videos of them I've ever watched on YouTube. I couldn't quite believe it. The guys I've been screaming, crying, obsessing about for the past 2 years were literally less than 10 meters away from me. Crazy stuff.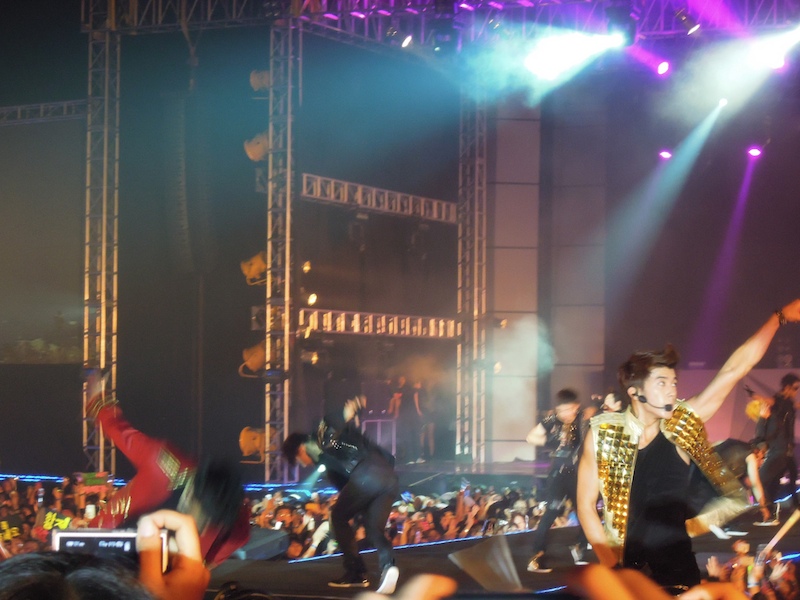 Wooyoung, the dude with the gold jacket on the right, is usually my most favorite 2PM member but when you see them live.. you can't really pick favorites anymore because all of them are amazing so amazing omg 🙂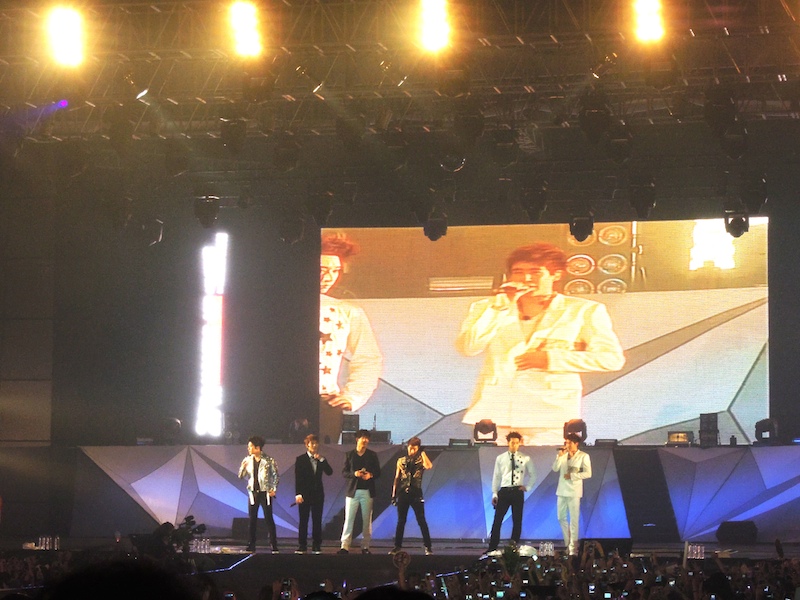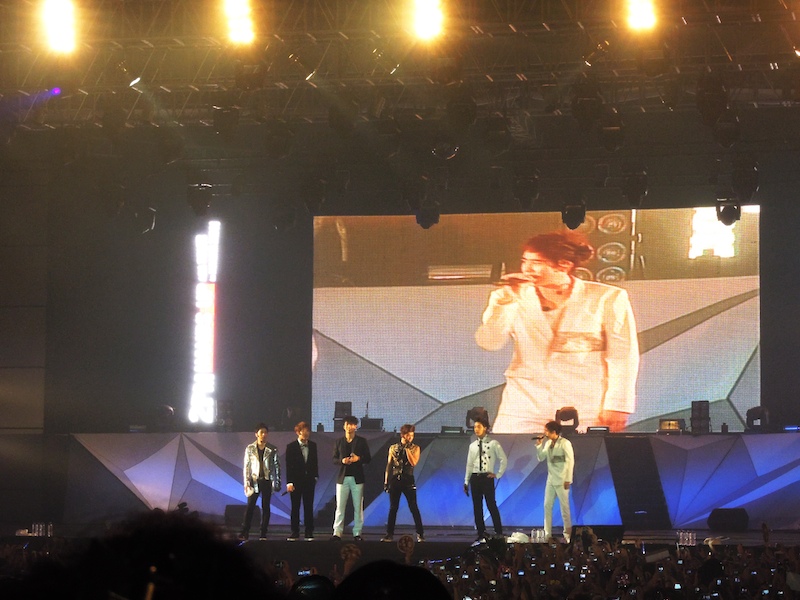 The best part about 2PM is that 50% of the members are fluent English speakers so there was no problem with talking to the audience at all.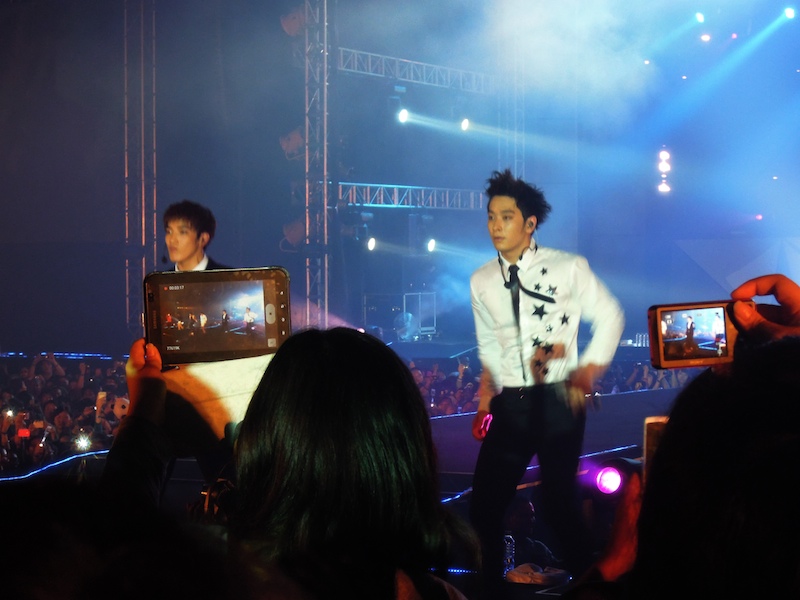 My favorite member to photograph (or attempt to photograph, haha) was probably Chansung. He is gorgeous in real life, almost unreal. My mouth was almost on the floor when he was just a few meters away from me.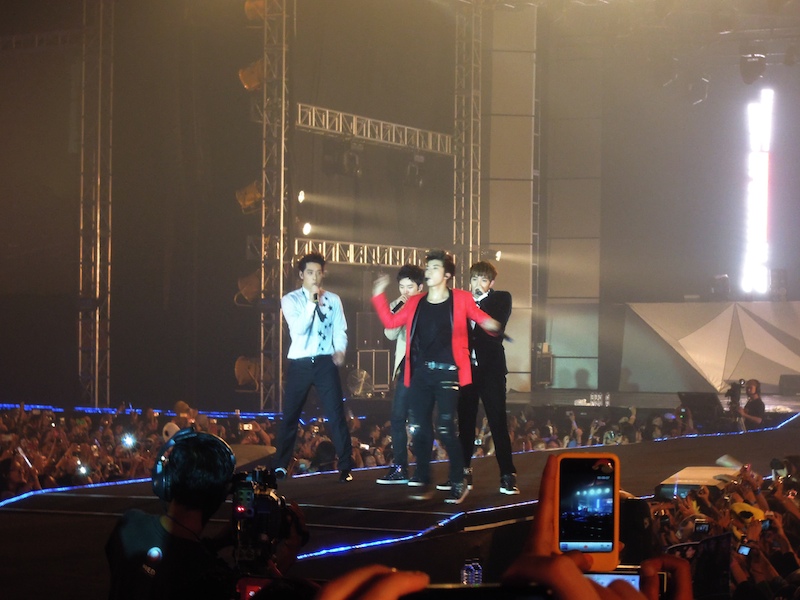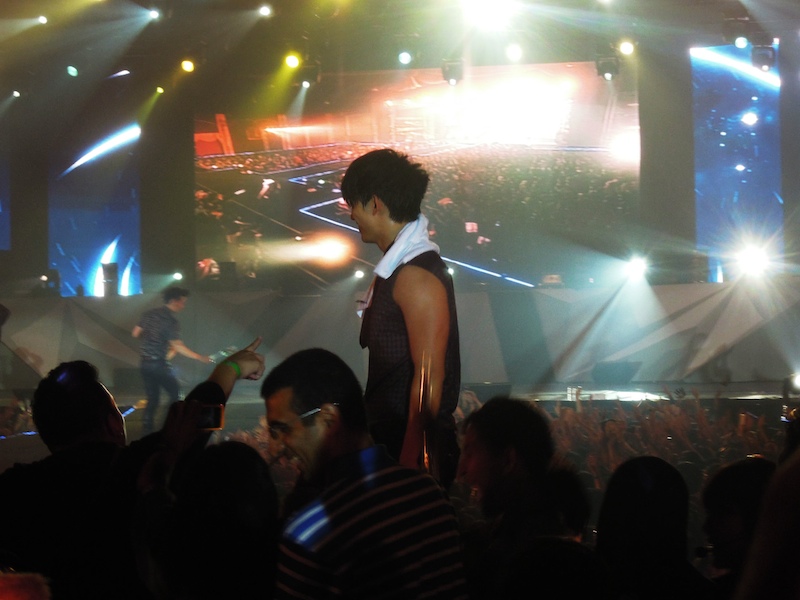 Taec's undoubtly the most buff of them all so here's a shot of his beautiful sweaty buff arms. They definitely spend a good amount of time at the gym considering how amazingly toned their bodies are and how much stamina they have to sing and dance nonstop song after song. I was really impressed.
And oh of course I won't forget to mention, the most buff of the 6 took off their shirts during the performance of their sexiest song, Back 2U. I love 2PM, but I'm not usually jumping up and down when they Chippendale it up but this time I'm not gonna lie, damn I enjoyed this performance. Sounds like my 11 year old sister did too, apparent from her scream (2min:30sec mark) in this fancam which she took. I'll let it slide this time.
[youtube="http://www.youtube.com/watch?v=-QUKJARIC1M"]
I uploaded all my 2PM concert fancams in this YouTube account: looksgoodinjeans.
On Being a 2PM Fan
I remember someone's comment in a blog about 2PM and she/he couldn't have been more correct about the guys,
2PM is deeply flawed in so many ways: only one of the members can be considered a "singer" (Junsu), most of their songs are repetitive, over-produced garble, their dancing is bordering seizures despite have some pretty decent dancers (I blame this on JYP who insists on doing everything himself…). But alas, I love these boys and I didn't expect myself to. I absolutely watching them – they're hilarious as hell and just simply down to earth and honest, which I find a rarity in Kpop. They also have a lot of chemistry on and off stage. Altogether, 2PM is really likable. Junsu and Junho are probably the most consistent in the group.
I'm a fan of 2PM, but I've never really been impressed with whatever they've already put out, except for Again & Again. So I was very happy when Hands Up came out because it's different from their beastly and emo concept and the fact that they are back to their 10 Points Out Of 10 Points concept. Yeah, the songs are not very original but I can listen to every single one on repeat lol.
If you ask me truthfully, I don't know why 2PM's songs are the only songs I can put on repeat again and again (LOL PUN INTENDED) despite the huge influx of really good K-pop songs. There are a lot of people who think that their songs aren't all that great, but c'mon, this is K-pop and I don't really have expectations. They don't have the best voices (but they can sing, and at least carry a tune thanks to years of practice), but their performance level is way above the extraordinary. The way they bring the stage alive and own it is something I will always be proud of as a big fan.
Plus I don't think I'd be getting into K-pop if it weren't for 2PM. Their manly/boyish/masculine charms were what it took for me to become really drawn to them. They are strong, without a hint of fruityness. I liked Rain's manliness so I liked him before too, but I never liked him enough to actually get into the genre as a whole but with 2PM, I guess it sort of took my life around. I became more open minded to androgynous Korean pop idols and it basically opened my mind to some of the great and talented people that are in the biz, not to mention totally funny and entertaining (+ the negatives like all the drama, the shady acts but that's for another post, or here in my K-pop blog).
I was just supposed to write about the concert and it came to writing about my experience with the genre as a whole, lol. Mostly because that night was when a lot of things came full circle. I've never been more proud to become a fan of 6 (+1 sometimes if you count Jay) guys and felt that all the time and money I invested for them was definitely worth it. I'm so glad I became a K-pop fan when I started having a job, or else I wouldn't have been able to afford some of the stuff because man, they suck your finances like no other. But it's something I enjoy so expect me to fangirl a bit more in the future. 🙂