Welcome to the very first edition of this years' The Sunday Currently! We're on to the 3rd week of the 3rd month of the year and time is showing no signs of slowing down. My weekends are finally starting to show a footing of routine but I'm still at a crossroads of whether I like it or not. This has been the most unexpected year ever. Anyway, on to the post!
FEELING
Having a headache. I'm not sure if this was brought on by the chocolates I had after dinner and the tea I had with it, but as I sat down to catch up with work (yes, on a Sunday night), an onset of a migraine arrived. Tempted to take a Nyquil but I still have work to do so it will have to wait once I'm done. Aside from that, it's been quite an eventful and satisfying weekend so I'm capping it off with a good dose of fangirling.
WATCHING
Honestly, videos related to work that I really don't want to elaborate so let's just leave it at this.
THINKING
About too many things all at once I don't think my mind is coherent enough to translate it all to a post. Work, how to get through this week, my future, JaDine, how to finish this challenge of a game I'm playing, travel plans. Ugh. I feel like I need to empty my brain for a bit and just be literally thoughtless. I think it's also not helping that my period is supposed to start in less than a week so maybe it's a combination of that.
WISHING
For stability in my thoughts. Why does my mind have to be on overdrive the entire time?
NEEDING
If I knew what I really needed (or had the courage to admit it) I think my inner demons would be minimized. Oh well, you can't have it all.
LOVING
JaDine. I am a fan and I will leave it at that before I go on a fangirl rant and show my utmost shit trash self, reserved for conversations that Aia and I have about this "From Reel to Real" loveteam.
READING
Today I was reading about a couple's horrible vacation experience because of a hotel resort. I hope I don't ever have to encounter a supposed-to-be good thing for something I paid a lot of money for and expect good service from.
Also, I bought the JaDine issue of YES today because I am a shit trash fan.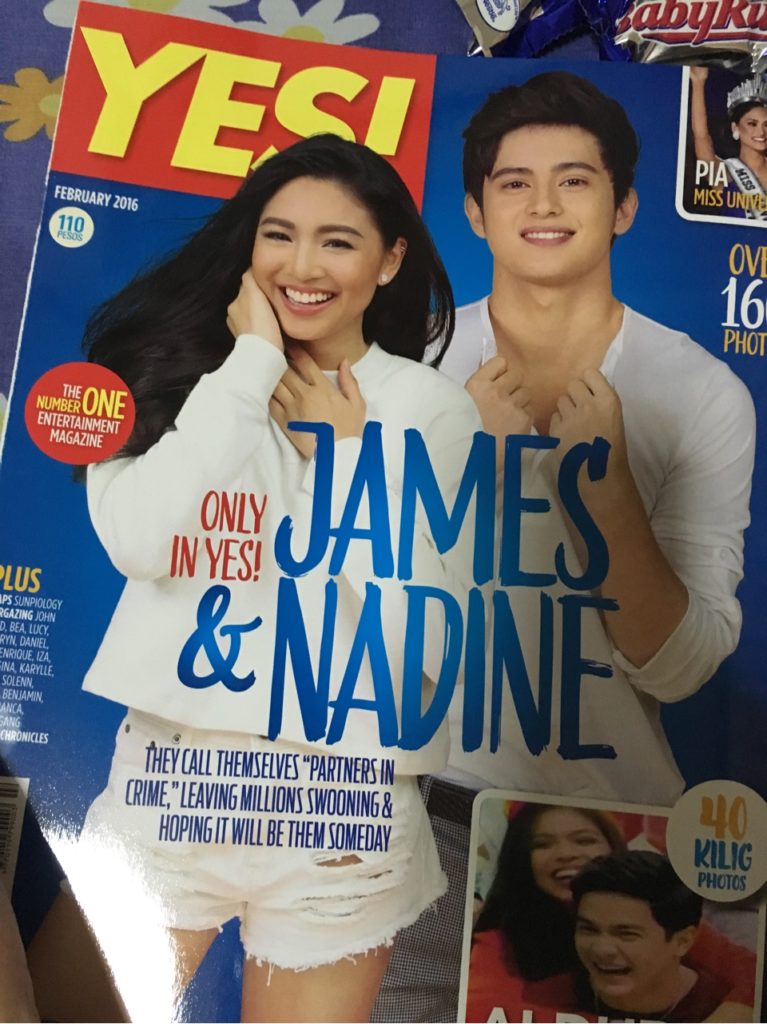 WEARING
Home clothes — Hello Kitty lady boxers. I love this.
LISTENING
Lately I've been listening to a lot of Zayn (I don't know what will happen to me when Mind of Mine comes out in 2 weeks), Troye Sivan hits still on repeat, Bryson Tiller is a new favorite, Riri's new songs are growing on me more and more, and loving anything The Chainsmokers has been releasing.
At this moment: Feist's Let It Die album. One of my all time favorites. Felt like I needed some good calming music for my migraine.
The Sunday Currently originally posted here.